Reasons Why We Love Windows Shutters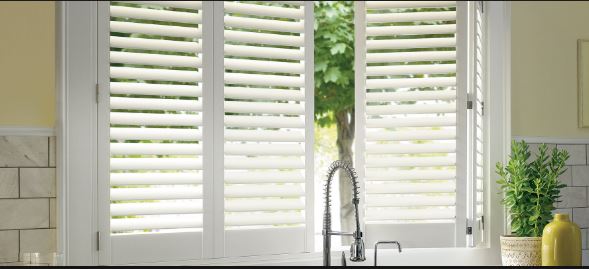 To put it simply, windows shutters in Pompano Beach, FL are one of the most beautiful and traditional ways to cover your windows. They have an incredible architectural design, impressing our aesthetic needs for hundreds of years.   
What are Shutters? 
Today shutters are any rigid window treatments. Most are composed of horizontal vanes. But other styles also feature solid panels, raised panels, board and batten, and Scandinavian shutters. Most shutters hinge to either side of the window frame and swing inward to open. They come in single units or can be customized into multiple sections allowing homeowners to shade only the top or bottom portion of a window area. Full-length shutters are also available if you want to install them over doors. Shutters allow for flexible light control, ventilation, security, and boost the value of the home.   
Brief History of Shutters 
The invention of shutters is credited to the Greeks. Early exterior shutters featured fixed marble. They were not exactly practical but did provide ventilation, light control, and protection. And as the popularity of shutters spread across the Mediterranean artisans started testing out other materials like wood. They featured movable louvers for adjusting air and light control. Then during the 15th-century shutters moved inside. And when Span began to colonize the New World shutters moved to America. That is why shutters are common in the large, colonial mansions of the south. The iconic window treatments featured wide louvers for visual effect and were always painted white. These are the iconic window shutters homeowners are most familiar with.   
What are the Different Materials for Shutters?  
Vinyl shutters are made from a strong poly-resin material. These give the classic look of shutters in a material that is more resistant to the effects of the environment. They will not warp, fade, rot, or scratch. And they require very little maintenance. These are a great option for the more active areas of the home, or rooms with high humidity.   
Composite wood shutters feature a wood core with vinyl covering. This improves strength and insulation while also giving you the protection of vinyl. They can take the harsh light, humidity, and abuse. When you choose composite wood shutters you get easier care and more flexibility.   
Wood is the most popular shutter material, just as the early shutters where fashioned from wood. These products are warm, traditional, luxurious and classic. They are also durable and you can stain them to match your personal tastes. And while they are more expensive and require more upkeep, the aesthetic is unbeatable.   
Call Open House Interiors for Windows Shutters 
Shutters do take precision in ordering. Each window must be carefully measured for height, width, depth, and any idiosyncrasies. It isn't something you want to tackle on your own. You want to consult with a window treatment expert.   
If you are looking at getting windows shutters in Pompano Beach, FL for your home contact us at (954) 533-7445. At Open House Interiors we combine creativity with attention to detail to help you find the best window treatments for your home. Along with shutters we carry blinds, shades, drapes, and curtains. To explore these different window coverings visit our showroom located at 4312 North Federal Hwy., Fort Lauderdale, FL  33308.  
Latest posts by John Back (see all)